History
The project of a Bibliography of Scottish Literature in Translation began in 1993. This date is significant: the same year as Irvine Welsh's Trainspotting and a few months before the release of James Kelman's Booker Prize winner, How Late it Was, How Late, the BOSLIT project came to life in a favourable context for contemporary Scottish writing. .
In the spring and summer of 1993, a series of meetings was held by the Scottish Arts Council to discuss the creation of a potential 'directory of Scottish translations'. Scholars, writers, and librarians present at the meeting, including Peter France, Ian Mason, and Tessa Ransford, agreed on a project to set up an online database, based at the National Library of Scotland, and focussing on translations of Scottish writing since 1975.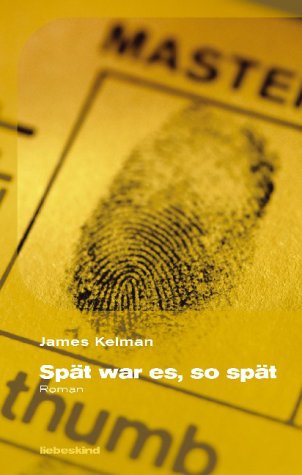 Under the chairmanship of Peter France and with help from librarians Ann Matheson and Dennis Smith, the BOSLIT committee soon began work. Writers and poets were also part of the extended team; these included: Christopher Whyte, Donal McLaughlin, Tessa Ranford, David Kinloch, and Rory Watson. Altogether, in the autumn of 1994, they won two grants, one from the British Academy, and the other from the Carnegie Trust for the Universities of Scotland. These allowed for the employment of a full-time researcher, Paul Barnaby, which was appointed to the new post. Following this, on 18 November 1994, the Scottish Arts Council announced the official establishment of BOSLIT.
Between 1994 and 1999, research work was divided into four phases. Phases 1 and 2 covered translations of Scottish literary works published since 1975, including adaptations of more than 250 contemporary authors. Phases 3 and 4 then moved back in time to include translations (of authors from all periods) published since the beginning of the twentieth century. Within five years, BOSLIT had covered almost a century of international translation.
In the years 1999 / 2000, the project underwent major changes in staff and organisation. Soon to retire, Peter France was succeeded by R.D.S. (Ronnie) Jack as chairman whilst Tom Hubbard was hired to replace Paul Barnaby after five years of indefatigable work. The popular crime writer, Ian Rankin, also joined the BOSLIT network. With fresh funding from the Arts and Humanities Research Board, BOSLIT could carry on, now working its way through pre-1900s translations, with a particular focus on the Scottish Enlightenment.
Four years later, in 2004, BOSLIT recorded 25,000 works in a total of 104 languages. Despite its success, however, the project entered a more delicate phase. Tom Hubbard's contract expired the same year but could not be renewed due to a lack of funding. Neither the National Library of Scotland nor the Scottish Arts Council could commit to supporting BOSLIT's activities in the long term —a situation which was only worsened by the 2008 financial crash and the ensuing years of austerity.
To grow, the database now had to rely on volunteer efforts. From 2005 to 2010 and from 2014 to 2018, hard work from volunteers, including Dennis Smith and Ann Matheson, yielded another 7,000 records for BOSLIT, including more than 2,100 translations from Gaelic into English.
Yet, despite all these efforts, BOSLIT's online presence was in jeopardy. In 2018, the National Library of Scotland adopted a new library management system which could no longer support BOSLIT's 20-year-old format. The raw dataset was moved offline, transferred to the library's newly developed Data Foundry where it remains downloadable free of charge.
This is not the end of the BOSLIT story, however. In 2021, the University of Glasgow, supported by the Royal Society of Edinburgh, launched a project to reboot the database and create a new network of scholars, translators, and publishers to secure its future. This led to the creation of the present website. Keep browsing to learn more.
Coverage
As of 2021, BOSLIT contains a total of 32,607 records in 104 languages, from the Middle Ages to the early 2000s. Coverage of the twentieth century is extensive, accounting for 70% of the bibliography. Data for nineteenth-century works is patchier, however, with gaps in the treatment of Walter Scott and no coverage of Arthur Conan Doyle; it is stronger for pre-1800 works. Finally, coverage of the twenty-first century remains to be achieved beyond the years 2004/05 – a task made harder by the exponential developments of online translation and publishing.
Works listed in BOSLIT account for literature in all its forms – novels, short stories, poetry, drama, and a limited amount of non-fiction. Fiction is widely covered at all periods; poetry is always included when traced. Published translations of drama are always included, though many translations performed on the stage do not seem to have survived in print. Serious 'literary' fiction is always included when traced, as is much genre fiction – crime, detective, fantasy, science-fiction, etc. But research on genre fiction has been less comprehensive and romantic fiction in particular is poorly recorded. Children's literature is well covered in the 19th and 20th centuries. Non-fiction coverage focuses mainly on works for the general reader, omitting translations of specialist interest: it is strongest for works associated with the Scottish Enlightenment.
Levels of coverage have inevitably been influenced by the availability of bibliographical sources and the accessibility of languages. Unsurprisingly, treatment of leading European languages has been achieved with better success than other world languages, especially those using non-Roman alphabets or scripts. Coverage of Asian and African languages is particularly difficult. Some major languages, including Chinese and Japanese, are well covered in bibliographical sources but others are not.
At a late stage BOSLIT decided in principle to include translations between the three ancient languages of Scotland – Gaelic, Scots and English. It now offers fairly full coverage of translations (of Scottish authors) into Scottish Gaelic, including translations from English and Scots. It also includes translations from Scots into English (mainly of Robert Burns). A few translations from Scottish Gaelic into English (mainly recent) have also been added but in this area much work remains to be done.