In this article, the first of our Walter Scott series, Dennis Smith and Paul Barnaby describe Scott's impact on the history of global translation. They also detail Scott's place in the Bibliography of Scottish Literature in Translation, charting ways in which the bibliography might be augmented in the future.
2021 marks the 250th anniversary of the birth of Sir Walter Scott (1771-1832), a titanic figure in 19th-century culture. Scott was not only immensely popular as a poet and novelist, he was also, in contemporary parlance, a great influencer. He has been both praised and blamed for his role in creating the image of Scotland as a site of Romanticism: he is a regular target in critiques of tartanry and Balmorality.
His influence extended beyond literature into culture and politics. He was archetypally ambivalent, aiming to avoid extremes on many different fronts – Highlands and Lowlands, Scotland and Britain (glamorous Jacobite past versus solid bourgeois future), puritan and papist, heart and head. He was a founding father of unionist nationalism, the ideology that dominated Scottish politics for well over a century.
Scott achieved this through literature rather than direct engagement with philosophy and politics (though he was steeped in the thought of the Scottish Enlightenment). He was the first historical novelist, hailed as such by the Marxist theorist Georg Lukács, but also a master storyteller. This reputation (no longer fashionable) was confirmed by E.M. Forster in Aspects of the Novel (1927): 'Who shall tell us a story? Sir Walter Scott of course'.
Readers came to Scott for entertainment and went away educated in history. His popularity was vast and international, not least through the medium of translation. Translations of Scott by Auguste Jean-Baptiste Defauconpret came to rank amongst the key French bestsellers of the 1830s. This French connection was significant because French remained the language of high culture across much of Europe, and Scott's subsequent reception was mediated through translations of French translations.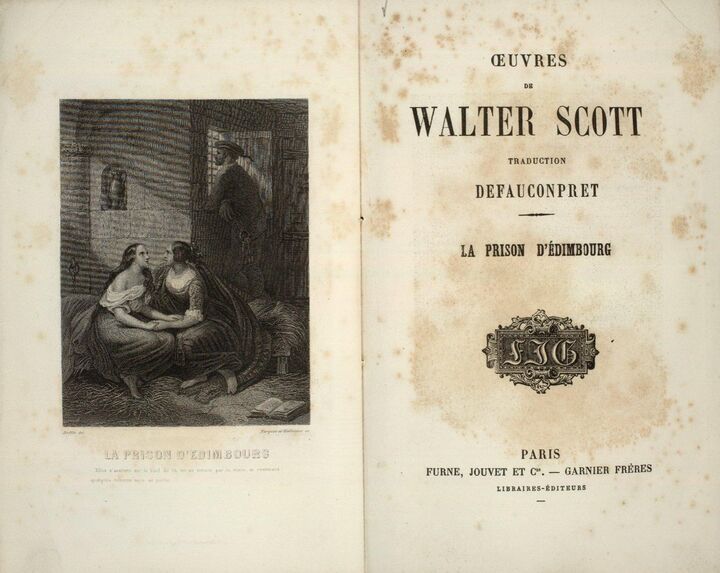 Scott's popularity transcended political and geographical boundaries. His medievalism attracted Europeans of all creeds, including liberal nationalists in Poland and Italy who used Scott's medieval settings to evoke the glories of an independent past or to portray successful uprisings against foreign tyrants. Indeed, as explored in the recent, online exhibition 'Walter Scott and Revolution' , Scott's own conservatism was not unprogressive by the standards of post-1815 Europe. His best-selling novels and poems, shaped by the era of revolutions, provided more than romantic escapism. By taking a step back, exploring Scotland's violent past, from the Reformation to the 17th-century Civil Wars and the Jacobite Uprisings, Scott added further, defter insights into the upheavals of his own day. Such a vantage point was key in achieving Scott's success beyond the Anglosphere, throughout countries affected by social change and revolutions in the nineteenth and twentieth centuries.
From 1994 onwards BOSLIT (the Bibliography of Scottish Literature in Translation) has documented the international and cross-linguistic reach of Scott, along with hundreds of other Scottish authors. Dedicated funding ended in 2004 but the database continued to grow slowly until changes in IT infrastructure took it offline in 2018. At that point it contained 32,607 records, of which 2861 were translations of Scott. That is, nearly 10% of all identified Scottish translations were of Walter Scott. Amongst these are adaptations of Scott in more than 60 world languages, including Afrikaans, Basque, Bengali, Burmese, Gujarati, Irish Gaelic, Kannada, Malayalam, Marathi, Oriya, Persian, Sinhalese, and Yiddish.
But even this is an underestimate. Coverage of 20th-century translations is fairly comprehensive, testifying to the enduring, global success of novels such as Ivanhoe and Quentin Durward. But research on the 19th-century, when confronted with Scott's massive reach, put some key areas aside, and this postponement unfortunately became frozen in time when the financial crisis and subsequent era of austerity closed off sources of funding.
As BOSLIT moves forward with a new, secure site at the University of Glasgow, it is hoped the very partial coverage of 19th-century Scott translations can be completed. Furthermore, research on twenty-first century adaptations of Scott could also yield interesting results. A number of questions remain to be answered. For instance: are there translations of Scott's previously unpublished novels, The Siege of Malta and Bizarro, recently incorporated into the Edinburgh Edition of the Waverley Novels? More broadly, has this new Edinburgh Edition had any impact on the translating world? Also, has the notable post-1989 decline of publishing interest in Scott in the former Eastern Bloc been reversed or amplified?
A lot has been achieved by BOSLIT in past decades, but more can and should be done. The future of Walter Scott reception studies will rely on its revival.